DELINEATION SERVICES
Greenway Engineering provides Preliminary Wetland Evaluations, Wetlands and Waters Delineation, and Permitting. The Environmental Department of Greenway Engineering is educated and trained in biology, ecology, and soil science. Our staff is trained in Wetlands and Waters delineation, stream assessments, regulatory permitting, and mitigation.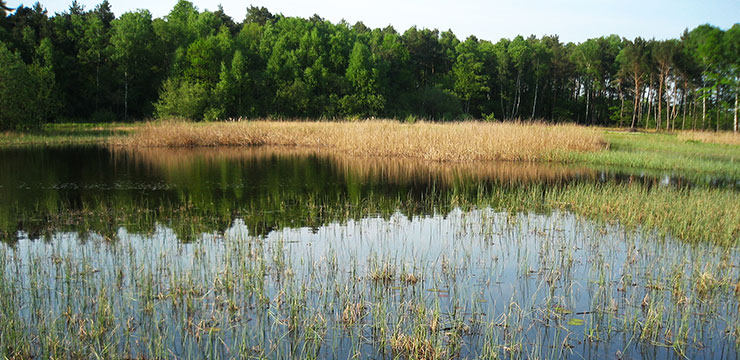 WHAT ARE WETLANDS?
Wetlands are defined as areas that are inundated or saturated by surface or ground water at a frequency and duration sufficient to support, and that under normal circumstances do support, a prevalence of vegetation typically adapted for life in saturated soil conditions. Wetlands generally include swamps, marshes, bogs, and similar areas. Wetlands typically have hydric soils, hydrophytic vegetation, and wetland hydrology. Wetlands are an important part of any ecosystem and have many functions and values such as: commercial and recreational uses, wildlife habitats, water quality maintenance, and erosion and flooding control.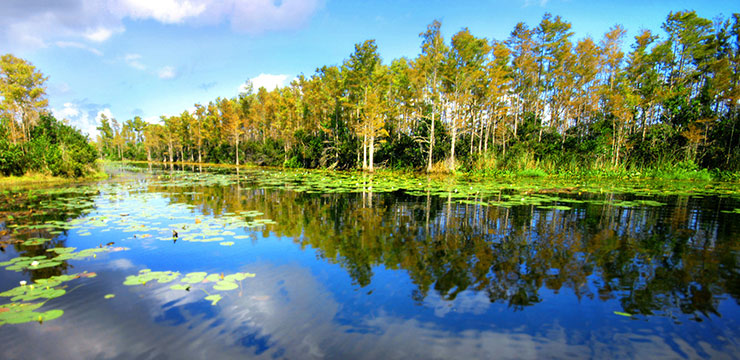 PRELIMINARY WETLANDS EVALUATIONS:
These studies are a great tool and are a cost-effective approach to understanding the wetland and stream restraints on a property. Greenway's staff can conduct a site visit and review background information such as aerial photographs, topographic maps and national wetlands inventory maps that can determine potential wetland and streams on the property. This is an important tool to determine the potential restraints on a property for development.
WETLAND AND WATERS DELINEATIONS:
We can provide a full wetland and waters delineation as outlined by the US Army Corps of Engineers. Our staff has delineated over 10,000 acres in the Virginia, West Virginia and Pennsylvania region. Our involvement early in the planning and development process can ensure your project complies with all local, state, and federal requirements. Our delineations result in a jurisdictional determination approval by the US Army Corps of Engineers. This approval confirms the location of wetlands and streams on the property and allows for us to plan your development to avoid these regulated features or to assist in preparing the necessary permits for any impacts. This is a critical step to avoid any potential violations, which could result in large monetary fines and lengthy delays to the project.
WETLAND AND WATERS PERMITTING:
Any activities that will impact wetlands and streams requires Section 401/404 permits. Greenway has extensive experience with assisting land owners and developers through the permitting process. It is important to evaluate the permitting options early in the development process to maximize the land use. As the regulatory permitting process becomes more involved, we work closely with the regulatory agencies from the beginning and throughout the process. Our constant involvement ensures the project progresses smoothly and efficiently. Our Experience includes:
US Army Corps of Engineers Nationwide Permits, US Army Corps of Engineers Regional Permit, US Army Corps of Engineers Section 404 Permits, VA DEQ Section 401 General Permits and VA DEQ Section 401 Individual Permits and Virginia Marine Resources Commission Subaqueous Land Encroachment Permits.
After the permit is issued, we continue to stay involved with the construction monitoring requirements as outlined in the permit.
Preliminary Wetland Evaluations

Wetlands and Waters of the U.S. Delineations

Jurisdictional Determinations

Stream Assessments and Classifications

Wetland and Stream Impact Assessments
Environmental Constraints Analyses

Threatened and Endangered Species Studies

Habitat Evaluations

Wetland and Stream Mitigation Banking

Construction Monitoring and Administration
Regulatory Permitting

Compliance Monitoring

After-the-Fact Regulatory Permits

Existing Vegetation Surveys
Section 404 Permitting
Nationwide Permit
A Nationwide Permit (NWP) authorizes a category of activities throughout the nation that have been determined to have minor impacts.
Individual Permit
Individual permits are required for discharges that are not either exempt or covered by a NWP or RGP. The individual permit process involves a full public interest review.
Section 401 Permitting
Virginia Water Protection General Permits
Certain activities that are considered to have minimal impacts to human health and the environment may be covered under one of these VWP general permit regulations.
Virginia Water Protection Individual Permits
Activities that cause significant alteration or degradation of existing wetland acreage or functions. Most times in this situation a Section 404 permit is also required. In this case a joint permit from both Virginia Department of Environmental Quality and the Army Corps of Engineers is required.
Virginia Water Protection Construction Monitoring & Reporting
The Impact areas that are covered under the permits are generally required to have either a monthly or quarterly monitoring report submitted to Virginia Department of Environmental Quality to ensure that only the permitted areas are being impacted.